We're so grateful to be working with the fun and forward-thinking team over at Med School Tutors (MST) — a place for medical students to get customized 1:1 online tutoring for the USMLE, COMLEX, admissions and residency advisement.
The folks at MST entrusted our talented creative team with a video and their website re-design project and we all came up big! The MST team is sitting on a year-over-year increase in visits of 20% and HubSpot awarded Salted Stone the Website Design Impact award!
Patrick Shea, Field & Channel Marketing, Director at HubSpot, Inc., said,
"Salted Stone has set an example for how businesses everywhere should be transforming their marketing with inbound. Their strategic approach to attracting, engaging, and delighting customers has not only built valuable relationships with their audience, but has driven growth for their agency and the inbound movement. Our team here at HubSpot is proud to call Salted Stone a Partner and recognize them with this Award."
Cadavers & Creativity
You could say that the birth of the beautiful relationship between Salted Stone and MST all started with a dead body.
You see, Salted Stone's creative team did a bang-up job on MST's My First Cadaver podcast site which ultimately led to the engagement for a complete re-design of the main MST website.
When deciding whether to move forward with a traditional website or a growth-driven design site, the team at MST opted for the growth-driven design path. According to David A. Schulman, Chief Creative Officer at Med School Tutors,
"Any website design, just like any work of art, is never really 'done.' You just run out of time. I don't care how talented or visionary you are. You need fresh eyes on it — and those fresh eyes begin with your actual target audience.
It's only after you push it out of its nest and release it into the wild that the real work begins. It needs to evolve, the same way a company does. So in short, if you are looking to grow and evolve (and sustain and survive) as a business, you choose the 'growth-driven' process."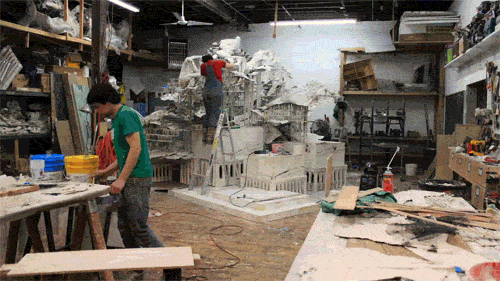 That doesn't mean that going this route was totally stress-free. According to Faith Meyer Yeung, COO at Med School Tutors,
"One of our biggest concerns was balancing professionalism and the fact that we're the leaders in this field with the more creative and game-like approach. By most accounts, I think we definitely found that magical dance between left and right brain approaches, and I'm sure it'll only continue to evolve in a spectacular way as we grow and iterate together."
Growth-Driven Design & Collaboration
Meyer Yeung's initial reservations actually highlight one of the best reasons to opt for growth-driven design: that it leaves room for ongoing collaboration and continuous growth so that when changes do end up needing to be made, it's possible to pivot without throwing a wrench in hard-and-fast plans.
Mitch McKenzie, Creative Director here at Salted Stone, says he "really looked forward to hopping on weekly calls with them and showing progress. They'd always be so excited to see their ideas coming to life and were really appreciative when we were able to push a concept a bit further than expected."
When we asked Schulman what the collaboration process was like with the Salted Stone design team, he said,
"There were many times in the collaboration process where Salted Stone members worked so seamlessly alongside my own creative team, I honestly had moments feeling like they were part of my actual core team at Med School Tutors. They put in the same heart that I expect from myself—and really understand how sacred true creative collaboration is. The actual give and take of it.
Few businesses I've worked with understand that secret pact made between artists, where egos are left outside of the sandbox—and at the end of the day, if you create something that truly engages and tells your story, chances are you won't even know who came up with what in the process. It becomes that cohesive.
And most importantly: Salted Stone never went into our relationship with that 'client is always right' attitude. On multiple occasions, they challenged me to dig deeper and find the bigger story we were ultimately trying to tell."
McKenzie loves the energy and fun-slash-challenging ideas the MST team brings to the table,
"Taking their ideas and running with them, building on them, pushing them a step further—is always a really rewarding process. The whole process was really collaborative. Each party brought a lot of great ideas to the table. We pushed each other and continuously built on each other's ideas."
Ditching Corporate to Level Up
The original MST website came across a bit too corporate, especially considering that it was targeted to students. So our creative team worked on a look and feel that was more dynamic and relatable to a younger audience.
By conducting user testing we were able to ensure our theories were on point and then got to work creating a homepage that mimics the opening screen of a video game. This was done to fit into the apprentice/master relationship that Med School Tutors has with students.
The site's main call-to-action encourages students "Level Up" which starts them off on a fun, interactive classic video game-style "journey" that leads them to the appropriate page for the test they need help studying for.
McKenzie remembers,
"The retro video game style was a blast to work with and a nice change of pace from what we are used to doing. As a 90s kid, it was really fun to dive into that nostalgia of the Super Nintendo / Sega Genesis era."

(For a deeper dive into more project details, check out this post.)
It's Not All Puppy Dogs and Heart Eyes Emojis
Every big project comes up against challenges and this website re-design was no different. Meyer Yeung says,
"We think of the Salted Stone team as part of the MST family. As with any big build, there were hiccups along the way, but there's no way our website would have turned out to be as tremendous as it is without all the heart, creativity and expertise that Salted Stone brought to the project.
I think the only challenges we faced were not fully understanding each other on some of the more complicated or nuanced requests that were made or questions that were posed. I think everyone did a great job of calling it out when there was any sort of confusion or if any balls were dropped, and I think the communication as a whole was very strong."
Schulman adds,
"The biggest hurdles during our process was when my team and I didn't foresee an idea, or some other element, that was needed for a page. For example, we came to a conclusion about 2.5 months in that we needed mascots for certain pages, someone who would represent a tutor and someone who would represent a doctor in med school.
We spent a good three weeks or so sorting out the direction on this. Salted Stone worked on their end. My creative team worked on ours. The result was a marriage of the two ideas that ended up working better than we could have ever imagined."
How Do I Look?
Getting a makeover can be nerve-wracking. And when it's all said and done, it's often the feedback of your closest friends, customers, and colleagues that means the most after schilling for an upgrade. So we're always curious to find out what types of feedback our clients hear after rolling out a new website or creative collateral.
From Schulman:

"Aside from the comments remarking on the beautiful gallery of artwork on our homepage (featuring several different artists' work), people are constantly telling me how the animated GIFs of the tutors (on the Tutor Bio pages) tell them more about that particular person than any write-up ever would (or could). And that they immediately feel like they know them—and that the stigma of 'brilliant-yet-socially-awkward doctor in training' is completely removed."
From Meyer Yeung:
"Oh man. So many people have raved about the site—from our tutors to our friends and family who are completely removed from medicine. My #1 favorite element is the tutor page with the moving gifs because I know so many of our tutors so well, and to finally be able to show just how amazing they are, even with a teensy glimpse at their personalities, makes me so happy. Of course, the video still blows my mind every time I watch it, and I love how the exam accordion turned out, as well as the newest iteration of the blog. #winning"
(You can watch the video that Meyer Yeung references here.)
Looks and Brains!
Video games and cool creative aside, our team knew that the site had to be more than just a pretty face. Driving business results is always the focus. McKenzie adds,
"In designing the site, it was key for us to keep usability at the front of our minds. We knew what we were doing was going to be fun and entertaining for users, but we didn't want to lose sight of what's really important in the process—ease of navigation, intuitive access of content, and getting users moving down the funnel."

We couldn't be happier about how happy MST (and their tutors and students) are with the new site. And we're super grateful to HubSpot for acknowledging the team's work here. If you have any questions about how the growth-driven design website process works, or if you'd like to talk through your own website ideas, please don't hesitate to reach out. We love talking to people about this stuff :)